Today's newsletter is powered by
Kitman Labs, a sports tech company known for its athlete management system and performance analytics, has closed a $52 million investment round. The funding will help further its data science and product development, grow its global staff, augment its research in support of sports, medical and technology professionals—and expand into military and government service uses.
More than 700 teams in virtually every major sports league—NFL, MLB, NHL, NCAA, English Premier League, La Liga, Serie A, Bundesliga and Premiership Rugby, to name a few—are clients of Kitman Labs. The company projects a 9,000% increase in data points collected per athlete within the next five years. Kitman acquired The Sports Office and Presagia Sports over the past two years.
The Dublin-founded Kitman Labs has now raised a total of $82 million with Guggenheim Investments leading this round. Guggenheim Investments is a subdivision of financial conglomerate Guggenheim Partners, whose CEO, Mark Walter, is chairman and controlling owner of the Los Angeles Dodgers (The Dodgers, incidentally, partnered with Kitman back in 2015).
"We are empowering teams to move quickly into the new paradigm for sports performance and talent strategy, characterized by bringing together data, people and processes. Our fully-scalable operating system for sport bridges the gap between legacy software, trackers and wearables, consolidating them into one centralized platform that creates real-time insights that improve performance on and off the field," Kitman Labs CEO Stephen Smith said in a statement.
WIN Reality Is a Max Fried Fastball (or Slider) Come to Life; Blink and You'll See It Just as Poorly as the Houston Astros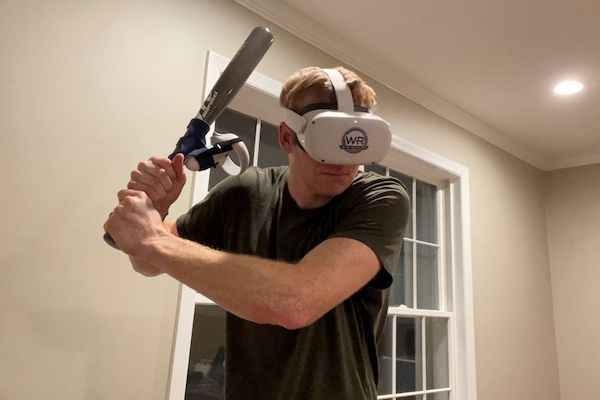 SportTechie's Sandbox is where we share our experiences testing products, gear, solutions and more in the sports tech space. Our senior writer Joe Lemire stepped up to the virtual plate to face big-league pitching with WIN Reality.
* * * * *
Five hours before Houston Astros second baseman Jose Altuve strode to the plate in the first inning of World Series Game 6, Atlanta Braves starter Max Fried was already on the mound. The stakes were decidedly lower, however, as his opponent in the right-handed batter's box was me: a guy whose competitive baseball career ended at age 17 and hasn't seen live pitching since a media game at Fenway Park four years ago.

WIN Reality runs on the Oculus Quest 2, and its virtual reality resolution is sharp enough to more than capably simulate an at-bat against a big league pitcher. The results were predictable, too.

Fried started me with a low slider and an outside curveball, a pair of breaking pitches that I let pass. I'd like to say it was entirely because of my discerning eye, but it was mostly because I planned to take a strike (Also, even his off-speed deliveries whizzed quickly past me at the upper limit of what I could probably make contact with).
This plate appearance—and, let's be clear, all I did was show up in the box and exit quickly—took place in WIN Reality's batting cage mode, a beta feature that allows its users to take cuts against simulated pitches. WIN works with more than half of MLB clubs and individual hitters from every team. It imports pitch tracking data so that a VR hitter will see a random array of the pitcher's 100 most recent game pitches.
Speaker Spotlight: George Toma
George Toma has maintained the fields at numerous stadiums used by MLB and NFL teams. For much of his career, Toma was the head groundskeeper for the Truman Sports Complex in Kansas City, Missouri; which includes the Kansas City Royals' Kauffman Stadium and the Kansas City Chiefs' Arrowhead Stadium.
Toma has been contracted by the NFL to prepare the field for every Super Bowl. He was also called upon to supervise the grounds crews during the 1984 and 1996 Olympic Games and the 1994 World Cup.
Splash Brothers Get New Tool as Golden State Warriors Launch Shot-Tracking Software Powered by Oracle
The Golden State Warriors have launched a new software to track player shooting performance called Warriors Player Dashboard. The platform was developed in partnership with cloud software firm Oracle.
The dashboard divides shots into three categories: three-pointers, shots from the key and mid-range jumpers. Viewable stats include each player's shot-count totals, space on the floor, field goal percentage and points per shot. Data is shown on leaderboards alongside league average comparisons—gathered from all Warriors practices and games over the past 365 days.
Oracle says its system will be used to inform Warriors staff on discrepancies such as identifying players who mostly take corner-threes in practice but primarily shoot from the top of the key during games. Players and staff can view the dashboard on mobile phones, as well as on large screens around the team's practice facility—which is named Oracle Performance Center.
"I look forward to implementing the Warriors Player Dashboard in our daily player and team analysis as part of our larger goal of another NBA championship," Kirk Lacob, Warriors EVP of basketball operations, said in a statement.
NFL Slot Machines to Enter Casinos Through Exclusive Aristocrat Gaming Deal
The NFL has signed an exclusive global licensing agreement with Aristocrat Gaming to build the first NFL-themed slot machines. Gamblers will be able to select games that display branding of their favorite NFL teams, with the machines expected to hit casino floors during the 2023 season.
Aristocrat Gaming is a licensed gambling operator in 300 jurisdictions across more than 90 countries. The slot machine developer's multi-year deal includes non-exclusive rights to produce virtual sports games with the NFL.
"Today's slot machines offer engaging experiences akin to popular video game consoles that our fans adore, and we believe with Aristocrat's vision, we can bring that exciting gaming experience to fans on the casino floor looking to show their love of football," Rachel Hoagland, the NFL's VP of gaming and partnership management, said in a statement.
Caesars Entertainment signed a multi-year deal in 2019 to become the NFL's first casino sponsor. The league has since signed betting deals with sportsbooks such as DraftKings, FanDuel, FOX Bet, BetMGM, PointsBet and WynnBet.
Step Into the New Virtual Hub Experience

From contactless transactions to video intelligence to smart analytics, discover the connected future of the entertainment district, powered by fan engagement solutions from AT&T Business.

Take a self-guided digital tour of sports and entertainment insights, guidance, and solutions that can help you tackle today's challenges and seize tomorrow's opportunities.
Topgolf Owner Callaway Invests $30 Million in Five Iron Golf
Callaway Golf Company has made a $30 million minority investment in Five Iron Golf, an operator of indoor golf entertainment venues. Five Iron's venues offer lessons, social events and Full Swing golf simulators that use TrackMan radar.
Founded in New York City four years ago, Five Iron Golf now operates nine locations across seven U.S. cities, as well as one in Singapore. The company plans to develop seven more venues, including locations in Seattle and Chicago.
Callaway, a leading golf equipment brand, expanded its reach into the golf simulator space in March when it bought Topgolf, the operator of about 70 golf entertainment venues around the world.
"Working with Callaway and leveraging its position as an undisputed global leader in golf will have immeasurable benefits for Five Iron Golf as we continue to execute our strategic growth plans and vision both domestically and abroad," Five Iron Golf president and chief legal officer Henry Ciocca said in a statement.
Sports teams are increasingly turning to technology to improve their operational efficiency across all functions of their organizations and venues. With recent events only elevating this trend further, the IT network solution has never been more of a vital part of this strategy due to its ability to connect critical systems, deliver meaningful intelligence, and advance business initiatives.
Join us Wednesday, December 1 at 1:30 p.m. ET, as industry leaders from some of the top brands in sports will explore how data-driven network infrastructure maximizes performance for sports venues today and how it provides a powerful platform for the needs of tomorrow — from the front office to event operations, marketing, concessions, team staff, coaches, athletes and fans.
Video Learning App Bright Partners With Olympians Bode Miller, Lyndsey Vonn, and NBA's Malcolm Brogdon
Live video chat platform Bright has announced deals to facilitate conversations with several star athletes — including former Olympians Bode Miller and Lyndsey Vonn and current NBA players Malcolm Brogdon, Caris LeVert and Justise Winslow.
Other notables to join Bright include NBA commentator Kenny Smith, former Brooklyn Nets assistant GM Bobby Marks and celebrities such as Madonna and Ashton Kutcher. Bright's learning-focused app lets athletes and celebs host sessions that fans can join to ask questions over live two-way video.
Bright has also formed a new partnership with INFLCR, the content management software for college athletics. More than 150,000 partnered colleges teams and athletes can now access Bright and get paid for hosting sessions.
"We are especially excited about our partnership with INFLCR, which offers young, emerging athletes the unprecedented ability to control their brand from the start - providing them with opportunities to monetize directly, connect with fans and other brands as they build their careers and business ventures," Bright CEO Michael Powers said in a statement.
Rasmus Barfred (r.) and Bo Haaber (l.) pitched their AI-backed custom-fitting swim goggles called TheMagic5 to Shark Tank investors on last week's episode of the ABC TV series. The entrepreneurs, who use facial scanning and 3D printing to design goggles that match a person's face contortions, walked away with a $1 million investment from sharks Mark Cuban and Robert Herjavec.
Learn more about SportTechie AMPLIFY here.
Image credits: Courtesy of Joe Lemire (Win Reality); TheMagic5 (Shark Tank)